The African bush elephant, also known as the savanna elephant, is the largest land animal on Earth. It is one of two living species of elephants, the other being the Asian elephant.
African bush elephants are found in a variety of habitats throughout sub-Saharan Africa, including grasslands, forests, and deserts.
Jump to any section below or read the entire article.
The Mighty African Bush Elephant
The African Bush Elephant has always fascinated humans with its impressive size and unique features. It has been a subject of study for researchers and conservationists who aim to understand and protect this magnificent wild animal.
From their impressive ears, enormous tusks, and powerful trunks to their intelligent and social behavior, the African Bush Elephant is a testament to the incredible diversity of nature. Let's delve into the fascinating world of the African Bush Elephant, exploring its characteristics, habitat, behavior, and more.
Physical Characteristics
On average, these magnificent creatures can grow up to 10 feet tall at the shoulder and weigh over 7,500 kilograms. They are awe-inspiring, powerful creatures that have always fascinated humans with their massive size and physical attributes.
Difference In Between Female And Male African Bush Elephant
From afar, it can be difficult to distinguish between male and female African bush elephants. Although the two may seem similar at first glance, upon closer inspection, there are clear distinctions between them. Generally, male elephants, also referred to as bulls, are larger than their female counterparts.
Its tusks are more prominent and can grow up to six feet in length; female tusks are much smaller and can be less than a foot. Male elephants also have a larger, broader forehead and a more angular appearance, while females have a rounder face and a more slender body.
Another notable difference between male and female elephants is their behavior. Male elephants tend to be more solitary and are only seen with other males during mating season or in rare cases when they form "bachelor" herds. Conversely, female elephants reside in tightly bonded family units governed by a senior female member referred to as the matriarch.
Furthermore, both male and female African bush elephants have unique and impressive physical attributes that make them stand out in the animal kingdom. Their large ears, up to six feet long, help regulate their body temperature, while their long trunks are used for various tasks such as feeding, drinking, and socializing with other elephants.
Their thick, wrinkled skin protects them from the harsh sun and insect bites, and their wide, muscular legs can easily carry their massive body weight.
Habitat And Distribution
The African Bush Elephant can be found across 37 African countries, ranging from the savannas of Kenya and Tanzania to the dense rainforests of Central and West Africa.
These animals are particularly versatile when choosing a habitat, and they can thrive in various types of ecosystems, including woodlands, deserts, and even mountainous regions.
Their geographical distribution is closely tied to the presence of water. Elephants require large quantities of water to survive, frequently found close to rivers, lakes, and watering holes. They are particularly fond of areas with abundant vegetation, as it provides a reliable food source in their herbivorous diet.
Interestingly, the African Bush Elephant is known for its long-distance migration patterns. These migrations occur mainly in response to seasonal changes in the availability of food and water. During the rainy season, elephants stay in one place, exploiting the abundant resources. However, as the dry season sets in, they begin to move in search of water and food.
What Do African Bush Elephants Eat?
The African Bush Elephant is a herbivore that feeds on plant matter. These majestic creatures have a varied diet, with the ability to consume a wide range of vegetation. Their diet includes leaves, bark, grass, fruits, roots, and even tree branches. African Bush Elephants can consume up to 300 pounds of vegetation every day, making them one of the largest herbivores on the planet.
In certain months, the African Bush Elephant's diet changes according to the food availability, they feed on fresh green vegetation found in the savanna. During the dry season, they turn to woody vegetation, consuming the bark of trees and digging roots from the ground. Additionally, to maintain their diet, they sometimes travel long distances to reach areas where their preferred plant matter is abundant.
Interestingly, despite their massive size, the African Bush Elephant is a picky eater. They have evolved a complex digestive system that extracts nutrients from the plants effectively, which is why they only eat the plants that they have the ability to digest. They also have a keen sense of smell that helps them to identify the right vegetation to consume.
Moreover, African Bush Elephants have a significant impact on their environment. They modify their surroundings by uprooting trees and consuming bark, which allows sunlight to reach the ground, promoting new vegetation growth. In this way, they participate in the vital process of ecological succession in their habitat.
Family Structure And Hierarchy Of The Magnificent African Bush Elephant
The African Bush Elephant boasts a fascinating family structure, living in a structured social network where they care for and protect one another.
This social structure is built around a matriarchal society, meaning that females are the herd's leaders, and males are subordinate. Here are some fascinating facts about the family structure and hierarchy of the African Bush Elephant:
Matrilineal Hierarchy
The elephant herd revolves around a dominant female leader, the matriarch. The matriarch is the oldest and most experienced female in the herd, and she is the one who makes all the key decisions. These decisions can range from deciding where to forage and drink to determining when to move to a new location.
Female Calf Dependence
The female calves usually stay with their mothers throughout their lives, while the males leave the herd when they reach maturity (around 14 years of age) to join other male herds. Female offspring depend on their mothers for guidance, protection, and up to five years of nursing.
Sibling Bonding
Sibling bonds are vital for young elephants as it plays a significant role in their survival. Female elephants learn important skills from their elder siblings, including foraging techniques, by staying with their mothers. Brothers usually stay together in bachelor herds as they mature until they are ready to form their own families.
Communication Methods Of The Magnificent African Bush Elephant
Elephants are social animals with intricate communication that includes verbal and nonverbal cues such as low-frequency rumbles, body language, and inaudible sounds.
Infrasound
Elephants use very low-frequency sounds, known as infrasound, below the range of human hearing. These sounds can travel over long distances, allowing them to communicate with elephants that are far away. Scientists have discovered that elephants can produce sounds as low as 14 Hz, almost as low as earthquake waves.
Check out how To track elephants, scientists keep an ear to the ground.
Physical Gestures
African Bush Elephants use body language to communicate, such as flapping ears or wagging trunks to express their mood. They also use a range of physical gestures like head movements and foot stamping to convey their emotions.
Vocalizations
The African Bush elephants may trumpet, groan, and rumble their vocal cords to communicate with each other. These vocalizations can range from soft grunts to roars depending on the situation.
Conclusion on African Bush Elephant
The African Bush Elephant is an extraordinary creature that has captured the attention and admiration of humans for centuries. These animals are vital for Africa's ecosystem, and conserving them preserves biodiversity.
The unique physical traits, behavior, and habitat of these animals fascinate researchers and wildlife enthusiasts. Conservation and education efforts will help preserve their wonder and beauty for future generations to enjoy.
Found this article interesting? Check out these mammals: Addax, Aardwolf
| Topic | Information |
| --- | --- |
| Physical Characteristics | Can grow up to 10 feet tall at the shoulder and weigh over 7,500 kg; large ears, up to six feet long; long trunks are used for feeding, drinking, and socializing; thick, wrinkled skin protects from the sun and insect bites; wide, muscular legs |
| Difference Between Female and Male African Bush Elephant | Males are larger than females and have larger, broader foreheads, more angular appearance, and larger tusks, while females have a rounder face and a more slender body; males are more solitary, while females reside in tightly bonded family units governed by a senior female member referred to as the matriarch |
| Habitat and Distribution | Found across 37 African countries, ranging from savannas to dense rainforests; versatile when choosing a habitat; requires large quantities of water and abundant vegetation; known for long-distance migrations in response to seasonal changes in food and water availability |
| Diet | Herbivorous; varied diet includes leaves, bark, grass, fruits, roots, and even tree branches; can consume up to 300 pounds of vegetation every day; have a complex digestive system that extracts nutrients effectively; modify their surroundings by uprooting trees and consuming bark |
| Family Structure and Hierarchy | Matriarchal society is led by a dominant female leader, the matriarch; males are subordinate; females stay with their mothers throughout their lives, while males leave the herd when they reach maturity to join other male herds; sibling bonds are vital for young elephants |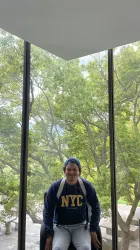 Latest posts by Liam Maart
(see all)