In the Ähtäri Zoo, an extraordinary story unfolds – a tale of an unexpected yogi in the form of a brown bear.
A chance encounter with wildlife can often lead to extraordinary moments of connection and awe. Such was the case for a Slovenian tourist visiting the Ähtäri Zoo in Finland. She unexpectedly captured a series of remarkable images showcasing a female brown bear seemingly practicing yoga. These captivating photographs offer a rare glimpse into the graceful and tranquil side of these powerful creatures.
Every day after waking up from a nap, the female bear, named Santra, engages in a 15-minute stretching routine.

Meta Penca, a 29-year-old web programmer, described, "She maintained a V position, holding her legs with her hands for a minute or two, before gently lowering them and relaxing. Following this, she lifted her left leg, extending it with her hands and sustaining it with her left hand momentarily. Subsequently, she raised her other leg, straightened it, and held it with her right hand for approximately two minutes. Afterward, she took a brief rest before repeating the sequence."
"It closely resembled the serene and deliberate pace of yoga practice that you might witness in people: unhurried, deliberate, and composed. She maintained a composed and focused demeanor, with a straight face, unwavering attention, and slightly open eyes throughout, demonstrating a profound sense of seriousness and tranquility."
Check out: Loyal Italian Cat Brings Gifts To His Owner's Grave Everyday.
Check out: Watch 5 Million Bees Create Chaos Near Toronto After Falling Off Truck.
Bottom Line
Overall, in the world of wildlife, there exist moments of magic, where the boundaries between our human existence and the natural world blur into a harmonious dance. The chance encounter of a Slovenian tourist at Ähtäri Zoo in Finland with a female brown bear named Santra. Who seems to engage in her own unique form of yoga, stands as a testament to these enchanting moments.
Thus, as we reflect on the images and descriptions of Santra's daily stretching routine, we are reminded that the mysteries of the natural world often surprise and inspire us. Whether it's the grace of a bear's morning stretches. Whether it's the dedication with which they approach these moments of self-care, the animal kingdom continues to unveil its wonder.
If you enjoyed this article as much as me, check out our related article links below!
Next up: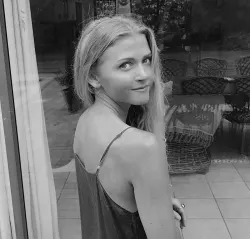 Latest posts by Kiah Bettison
(see all)