A heartwarming video shows the loving assistance provided by an adorable feline companion. This footage captures a remarkable moment when a cat lends a hand to its owner while packing a cardboard box.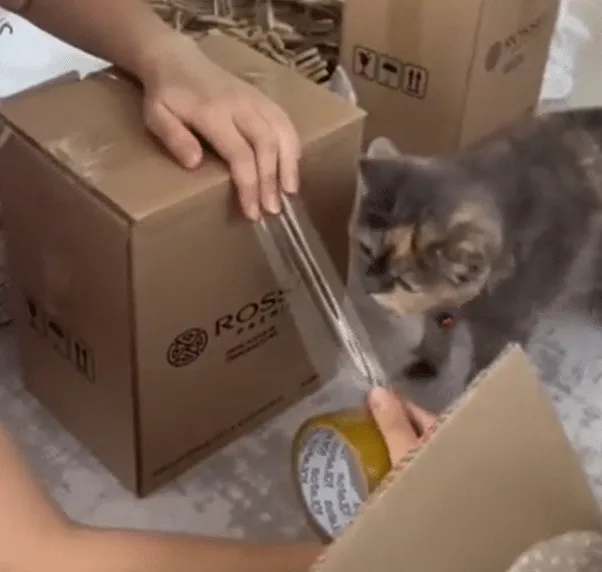 The Packaging Assistant
The video, featuring a cat offering its unique form of help to a woman, has been widely shared on various online platforms. In this charming clip, the kitty exhibits an unusual talent by using its teeth to cut adhesive tape. This endearing video made its debut on Reddit, accompanied by a concise yet fitting caption: "Packaging assistant." As the video begins, we see a woman seated on the floor, diligently securing a cardboard box with adhesive tape. By her side, the helper patiently awaits the next step.
Initially, the cat lends its paws to assist the woman in holding the box steady. It attentively observes as she attaches a piece of adhesive tape from a roll. Once the tape is in place, the woman guides the assistant to the precise spot where it should make the cut. With astonishing precision, the cat carries out this task. The remainder of the video showcases it repeating this helpful act.
Cat-lovers' Comments
Reddit users expressed their admiration for this extraordinary video. One user shared, "I'd love to have a cat like that! I always dread doing this on my own, but sometimes I'm just too lazy to fetch a pair of scissors. This wonderful creature has the perfect solution." Another user humorously recounted, "My cat, on the other hand, has a habit of inspecting all my customer shipments before they're packaged. It's almost like a special blessing ceremony with a sprinkling of cat hair. Surprisingly, I haven't received any complaints yet, but I'm sure it's given a few recipients a good chuckle or maybe an allergy flare-up."
A third Reddit user marveled at the cat's adaptability, noting, "This kitty seems to be taking its 'on-the-job' role quite seriously. Most cats would be disheartened watching their beloved cardboard boxes being sealed and taken away, akin to parting with a cherished toy." Praising the cat's work ethic, a fourth user commented, "What a diligent little helper!" Another user humorously quipped, "This cat is more efficient and cooperative than most people I know."
Conclusion
In a world where cats are renowned for their playful antics, this video reminds us of their incredible capacity to surprise and assist their human companions in unexpected ways.
If you enjoyed this article, watch as a cat plays with a deer.
Trending Animal News of The Week:
Latest posts by Llewelyn Klokow
(see all)