Footage from the ongoing Israeli-Palestinian conflict shows and Israeli rescue worker that cares for a shell-shocked dog – because yes, our pets get shell-shock too.
Currently media is full of tragic news from the ongoing war in Gaza. However, as in most warfare, we often forget the impact the violence has on our four legged companions. All kinds of animals also go through emotional turmoil when the world is burning around us.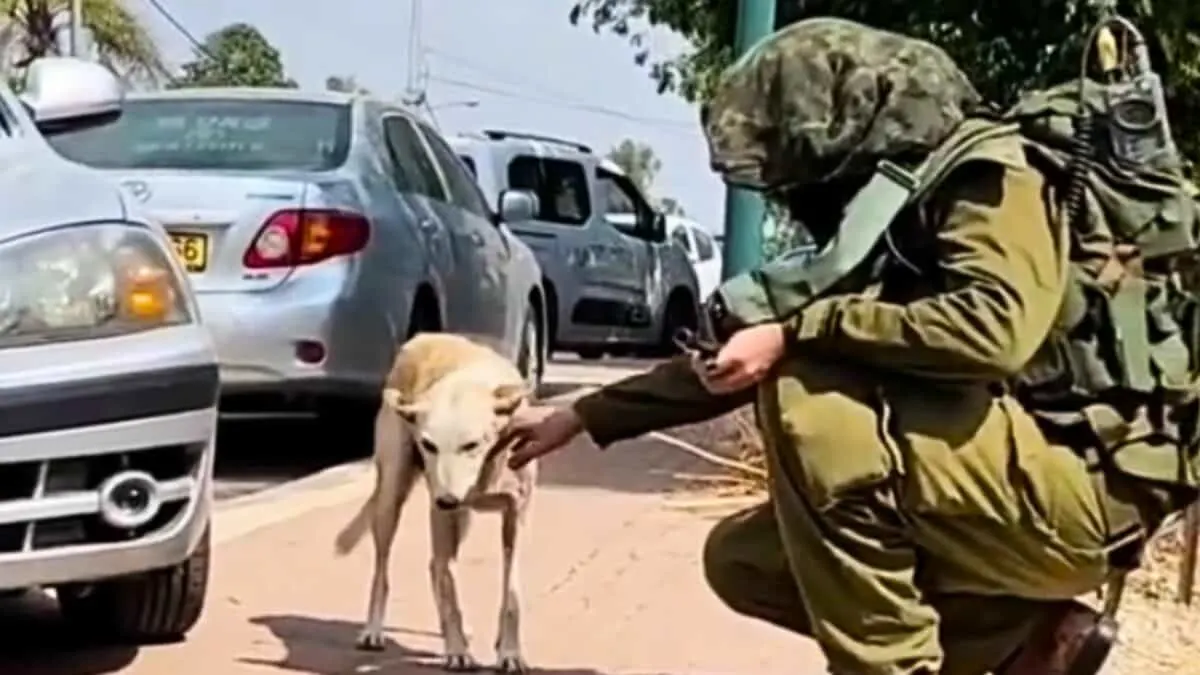 A Viral Video
As the whole world has its eyes on the ongoing Israeli-Palestine conflict, it's no wonder that this video went viral in a matter of moments after being posted by an Israeli journalist. Within a few hours, the short clip had been shared widely, reaching millions of viewers from across the world.
The video, showing an Israeli rescue worker caring for a shell-shocked dog, is equal parts heartwrenching and heartwarming. Comments include both gratitude for the glimpse of humanity but also concern for the many other animals falling victim to the tragic conflict.
This viral video underlines how social media has become a new component of warfare. In our technological age, it's videos like this one that provide the world with a real-time view of ongoing political conflicts.
The Plight of Animals In War Zones
Above all, this video puts an often disregarded issue in the limelight: how warfare affects animals. In the midst of human tragedy, it is easy to forget that our furry companions face the same dangers and sufferings as we do.
The heartwrenching scene in the video has since brought awareness to the collateral damage caused by war – highlighting how it affects innocent humans and animals alike.
Viewers have shown an overwhelming response to the video, indicating a strong willingness to support various animal rescue efforts in affected war zones. Luckily, dark times like these also showcases the brighter side of humanity.
Israeli Rescue Worker Cares For Shell Shocked Dog: The Footage
Against the background of a war-torn street, we witness a rescue worker approaching a limping dog. Despite being timid and fearful, the dog still allows the rescue worker to come close and pet him.
We probably can't even begin to imagine what this poor dog has had to live through. Dogs, just like us humans, suffer from shell shock too.
What's sadder still is that he's one of the lucky ones.
Other than the beautiful moment of the rescue worker who cares for this shell-shocked dog, the clip shows numerous other tragedies. A woman can be seen putting leashes on several dogs in order to get them into cages to ensure their safety. Another shot shows a terrified dog in a car riddled with bullet holes.
Public Response
People from all around the world applaud the incredible humanity and selflessness shown by rescuers and civilians alike. Sadly, dogs and other animals that come to harm in wars are completely reliant on the help of good samaritans.
The video illustrates the harsh reality faced by many pet owners in this current war zone. Anyone with a pet can relate to the heartbreaking sadness of losing a four-legged family member.
PTSD In Dogs
Just as humans get PTSD from living through traumatic events, so do dogs. Anyone who's ever owned a dog knows is familiar with the wide range of emotions that they possess.
When dogs get PTSD, it manifests in many different symptoms. Typically they have high levels of panic and fear. This makes them react strongly to things that maybe didn't even affect them at all before. Following PTSD dogs may also become increasingly clingy. Because of the increased anxiety, they often refuse to leave their owner's side.
Some may become especially withdrawn, whereas other become unusually aggressive.
Note that the symptoms of PTSD in dogs varies from one contrast to the other. After all, they all have individual personalities just like us.
Israeli Rescue Worker Cares For Shell Shocked Dog: Conclusion
While this footage from the ongoing Israeli-Palestinian conflict breaks our hearts, especially being a paw-rent myself. Pets, among all sorts of animals, are sadly the often-forgotten victims of war. Dogs also suffer from shell shock, attesting to their capacity for emotion.
On the other hand though, it also reminds us of the huge impact of small selfless gestures. During dystopic times like these it's a comforting thought that humanity also stands strong.
Thank you for reading this article about the Israeli rescue worker that cares for a shell shocked dog! For similar stories, take a look here:
Trending Animal News of The Week:
Latest posts by Josie Messeter
(see all)