C-Jay Martin, a 25-year-old Maine resident born without eyes, recently emerged victorious in a legal twist that allowed him to keep his emotional support chickens.
This case highlights the intersection of disability rights, mental health, and city ordinances. And in the bigger picture of life, it's a beautiful reminder of the impact animals have on us. Emotional support animals play crucial roles in the lives of those who need them.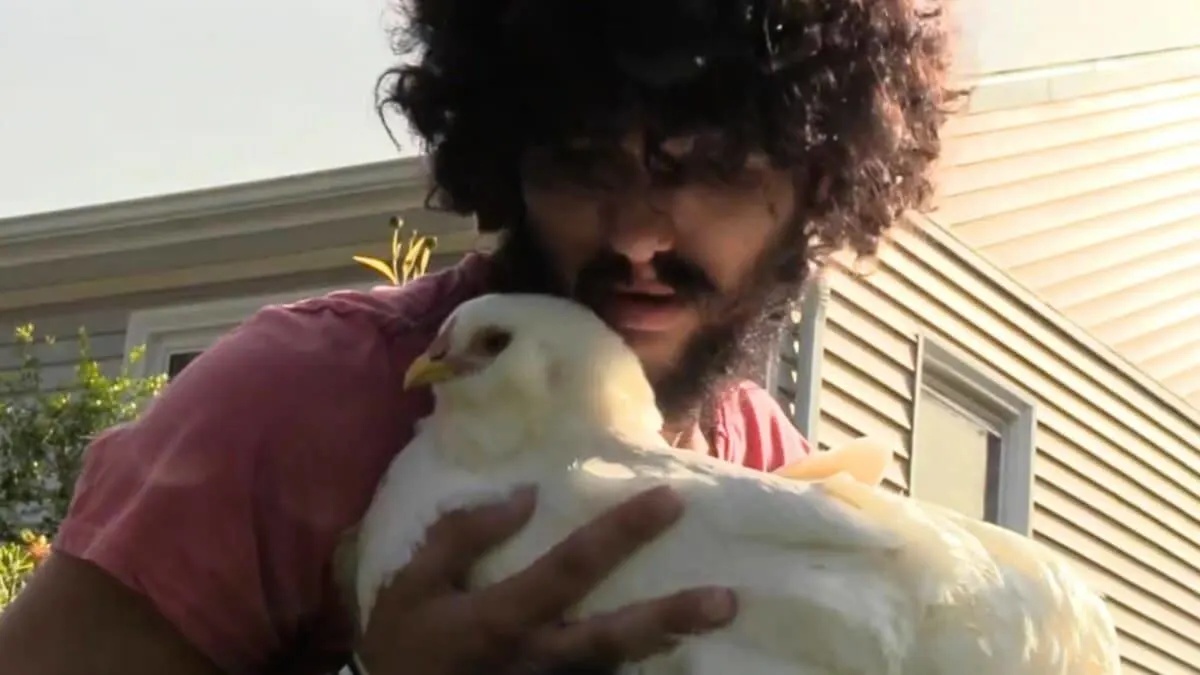 What Is an Emotional Support Pet?
Emotional support pets are animals that provide comfort, companionship, and relief to individuals suffering from mental or emotional conditions.
Unlike service animals trained to perform specific tasks for people with disabilities, emotional support pets do not require specialized training. They are recognized for their ability to alleviate symptoms of conditions like anxiety, depression, and PTSD.
C-Jay's mother, Amy Martin, noticed the positive impact the chickens had on her son's mental health, offering comfort and reducing his anxiety and depression.
Are Chickens Suited to be Emotional Support Pets?
Chickens, often underestimated, have proven to be excellent emotional support pets. They are social, friendly, and low maintenance.
During the pandemic, many discovered the calming effect chickens can have on humans.
Amy observed a significant improvement in C-Jay's mood when he interacted with the chickens, showcasing their effectiveness as therapy pets. Their gentle nature and "chicken chatter" provided a soothing environment for C-Jay, who has anophthalmia.
The Legal Twist: Why He Couldn't Keep the Chickens
Despite the evident benefits, a city ordinance in Bangor, Maine, prohibited the keeping of fowl, presenting a legal hurdle for the Martins. Amy's attempts to secure a reasonable accommodation for her son's disability were met with bureaucratic red tape.
The family's quest to keep the chickens became a legal ordeal, navigating city officials, the Department of Housing and Urban Development, and the Bangor Board of Appeals.
Legal Twist About Emotional Support Chickens: The Victory
Undeterred, Amy's persistence led to a hearing with the Bangor Board of Appeals. To make this story even more heartwarming, the community support in favor of C-Jay keeping his chickens was overwhelming. Both neighbors and city officials advocated for C-Jay's right to keep his emotional support chickens.
The board voted unanimously in favor of the Martins, a victory not just for the family but for the broader conversation around mental health and disability rights.
Pros of Keeping Chickens as Pets
Chickens offer more than just emotional support; they are gentle and pose no danger, making them suitable for individuals with various disabilities. The Martins' story underscores the therapeutic benefits of chickens, from their calming presence to the routine and sense of purpose they instill in their caregivers.
The victory at the hearing marked a significant step towards broader acceptance and recognition of unconventional emotional support animals.
Legal Twist About Emotional Support Chickens: Conclusion
C-Jay Martin's legal victory is a testament to the power of community, compassion, and the undeniable role of emotional support animals in mental health wellness. It illuminates the need for legal and societal adaptability to accommodate the diverse needs of individuals with disabilities.
As the community celebrates C-Jay's victory, their story calls for increased understanding and acceptance of the varied forms emotional support can take.
Thank you for reading this story about C-Jay winning the legal twist about his emotional support chickens! For more adorable emotional support animals, take a look at these stories:
Trending Animal News of The Week:
Latest posts by Josie Messeter
(see all)