In the heart of the wilderness, an extraordinary tale unfolds, where a man's rescue of an abandoned lioness gives birth to an unparalleled bond that defies nature's norms.
Man Saves Tiny Lioness Abandoned by Mom
A heartwarming tale emerges in the vast wilderness, where survival is often a game of chance. A tale of an abandoned lioness and the man who became her savior. Their unique bond not only challenges our understanding of wild animals but also showcases the depth of connections that can form between species.
A Fateful Encounter
Valentin Gruner stumbled upon a sight that would change his life forever. A 10-day-old lioness, abandoned and left to fend for herself. Her mother had forsaken her, and out of her siblings, she was the sole survivor. Without hesitation, Valentin stepped in, saving the tiny cub from the brink of starvation. He named her Sirga.
More Than Just a Pet
Sirga's growth was nothing short of spectacular. She transformed into a majestic lioness from a fragile cub, standing tall on her hind legs, even towering over Valentin. But what's truly astonishing is her demeanor around him. She rushes to him, embracing him in a hug, much like a child would to their parent. It's a sight that leaves onlookers in awe, as such affection is rarely seen in the Wild, especially from a creature as formidable as a lioness.
The Bond That Defies Nature
Dogs are man's best friend, loyal and loving. But Sirga's relationship with Valentin challenges this notion. She showcases a level of affection and trust that's unparalleled. However, Valentin quickly reminds everyone that Sirga is a wild beast, recognizing only him. Any attempt to replicate their bond with another wild animal might have tragic consequences.
Life Lessons from the Wild
Valentin didn't just provide Sirga with food and shelter; he gave her life lessons. He taught her how to hunt, ensuring she could fend for herself. Sirga, with her newfound skills, can now catch, kill, and feast on an antelope. Yet, the Wild isn't a place for her anymore. Without Valentin's guidance, she wouldn't survive.
The Video
Acceptance and Tolerance
While Sirga's loyalty lies primarily with Valentin, she's tolerant of others. She remains calm even in the presence of strangers, a testament to her trust in Valentin. One of Valentin's close friends, Mikkel, shares a unique bond with Sirga. He likens her to a sister, and their interactions mirror that of young wild cats playfully teasing their older siblings in the pride.
A Tale to Remember
Would you dare to bring a wild animal into your life, or is it safer to admire such stories from a distance? Sirga and Valentin's story is a testament to the unexpected friendships that can form in the unlikeliest places. It's a reminder that love and trust can transcend species, breaking barriers and challenging our perceptions.
In a world filled with stories of survival, this tale stands out, not because of the challenges faced but because of the bond formed. A man and a lioness, an unlikely duo, prove that with love, trust, and understanding, even the wildest beasts can become friends.
Thank you for reading this article – Man Rescues Abandoned Lioness.
Next up in the animal kingdom:
Trending Animal News of The Week: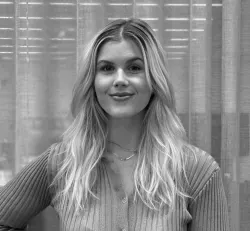 Latest posts by Linnea Hansen
(see all)