In an extraordinary tale of friendship, a playful African lion, a majestic Bengal tiger, and a gentle American bear have lived together harmoniously for over a decade. This incredible bond, formed under the most unlikely circumstances, has captured the hearts of many, earning them the affectionate nickname: the BLT trio.
A Fateful Beginning
Their story began in 2001 during a drug raid in Atlanta. In the basement, police discovered three animals – a bear, a lion, and a tiger – kept in deplorable conditions. The young cubs were malnourished, frightened, and infested with parasites.
The bars of the lion's cramped cage dug into its mouth, and the American black bear wore a harness embedded so deeply into its flesh that surgeons had to remove it. This surgery was the only time anyone separated the trio, and it visibly distressed the tiger and lion.
A New Home at Noah's Ark Sanctuary
The Georgia Department of Natural Resources rescued the three cubs and brought them to Noah's Ark Sanctuary (NAAS) for urgent medical care. They made a full recovery and found a permanent home at the sanctuary. The American bear, Baloo, and the Bengal tiger, Shere Khan, were named after characters from "The Jungle Book." The African lion, due to a prior operation, is called Leo. They became known as the BLT – Bear, Lion, and Tiger.
An Inseparable Bond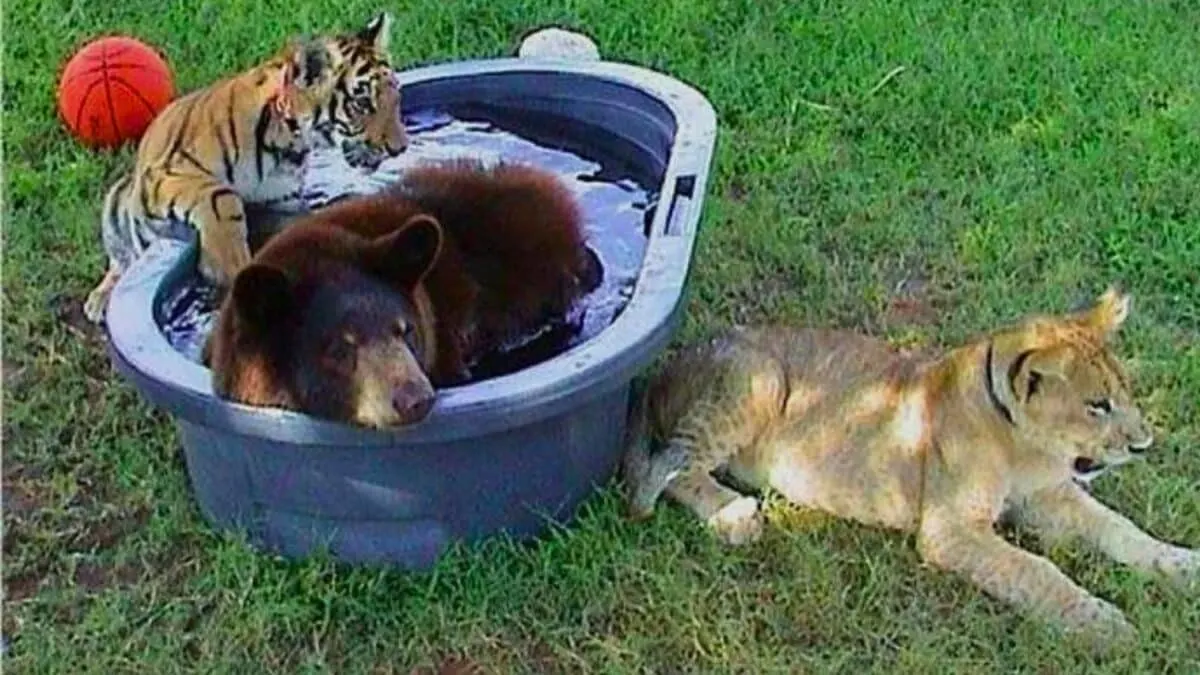 Despite their evident differences, the trio preferred each other's company. They ate, slept, and played together, seeking grooming and affection from one another. Shere Khan, the mischievous tiger, was always up for playful antics, often pouncing on Baloo and Leo. Leo, the lion, though usually lethargic, was always ready for playtime. Baloo, the confident and relaxed bear, mirrored his fictional counterpart's demeanor.
The sanctuary reported that their traumatic early months bonded the three, making them inseparable. Their bond was so strong that when Leo passed away in August 2016. Due to an inoperable mass in his liver, Baloo was seen rubbing and licking a statue on Leo's grave. Reminiscent of the many years they spent together.
Celebrating the BLT Trio
The BLT trio's story is a testament to the power of friendship and the ability to find family in the most unexpected places.
Their bond, formed under challenging circumstances, is a heartwarming reminder that love knows no boundaries, not even species.
Their tale is about their unique friendship and resilience, recovery, and the incredible care provided by sanctuaries like NAAS.
Next up:
Trending Animal News of The Week: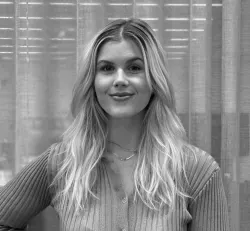 Latest posts by Linnea Hansen
(see all)