In the vast expanse of the wild, where nature's unpredictability reigns supreme, a heartwarming encounter with a lion challenges our perceptions and unveils the gentle side of these majestic creatures. Let's watch when these lucky tourists gets a warm welcome from a lion.
A Surprise in the Wild
Imagine expecting to witness the majestic beauty of wild animals from a distance. But what if, instead of a distant observation, you were greeted up close by one of nature's most powerful creatures – a lion? This is precisely what visitors experienced in this video.
The Lion's Embrace
As the video unfolds, viewers are taken on a roller-coaster of emotions. Instead of showcasing its fierce nature, the lion displays an unexpected warmth and affection towards the visitors. The scene is heartwarming and nerve-wracking as the lion approaches the visitors, not with a roar but with a gentle nuzzle. It's a rare sight that challenges our preconceived notions about these wild beasts.
The Power of Connection
The video is a testament to the deep connection between humans and animals. It's a reminder that even the most ferocious creatures have a soft side, and when treated with respect and love, they can reciprocate in the most astonishing ways. The lion's behavior in the video starkly contrasts the aggressive image often portrayed in popular media. Instead, it showcases a side of these magnificent creatures that are seldom seen – their capacity for affection and bonding.
The Warm Welcome
Intriguing Facts about Lions
Social Creatures: Unlike other big cats, lions are incredibly social animals. They live in prides, including up to 30 lions. This social nature might explain their occasional affectionate behavior towards humans.
Vocal Animals: Lions have a diverse range of vocalizations. Their vocal repertoire is vast, from roars that can be heard up to 5 miles away to gentle purrs. The lion in the video, instead of roaring, chose to communicate in a much softer manner.
Kings of the Jungle: While often called the 'King of the Jungle,' lions predominantly live in grasslands and plains. Their regal demeanor and powerful presence have earned them this royal title.
Conclusion
The video shared offers viewers a unique perspective on the world of lions. It's a heartwarming tale that challenges stereotypes and invites viewers to see these majestic creatures in a new light. As the video title suggests, the visitors did not expect such a warm welcome from the lion. But in that unexpected moment, a beautiful story of connection, understanding, and mutual respect was born.
Thank you for following along with this article!
Next up:
Trending Animal News of The Week: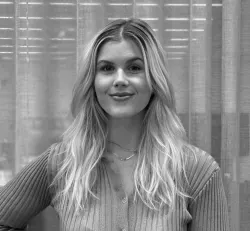 Latest posts by Linnea Hansen
(see all)