The whale hunting ban has been lifted in Iceland. This decision, initially driven by animal welfare concerns, has reignited global debates on conservation and traditional practices.
Whaling Resumes Amidst Controversy
Iceland's decision to lift its temporary ban on commercial whaling has stirred international waters. The ban, initially set in place due to animal welfare concerns, was lifted, allowing the only company with a valid whaling license, Hvalur hf, to resume its operations. However, this decision comes with stricter regulations and increased supervision.
The Whaling Debate
The temporary ban was instated after findings revealed that the killing of whales took longer than permitted by animal welfare laws. Shockingly, around 40% of hunted whales did not die instantly, with some taking up to two hours. This sparked an outcry from various environmental and animal rights groups.
The Lone Whaler's Perspective
Kristjan Loftsson, the owner of Hvalur hf, expressed his frustration over the lost hunting season due to the ban. He mentioned that the best time for whaling had passed, and they wouldn't continue after September. Loftsson's sentiments reflect the tension between traditional practices and evolving global perspectives on animal rights.
The Global Perspective
Iceland, along with Norway and Japan, is one of the few countries that have allowed commercial whaling in recent years. However, Iceland is unique in permitting the hunting of longer fin whales. The international community has been vocal about their opposition to this practice. For instance, several countries, including the UK, US, and Germany, have previously condemned Iceland's whaling policy.
Whale Hunting Ban In The News
A Glimpse of Hope?
Despite the controversy, there's a silver lining. The whaling license held by Hvalur hf is set to expire in 2023, and it remains uncertain if the Icelandic government will renew it. Some believe that this could mark the end of commercial whaling in Iceland. Sigursteinn Masson of the International Fund for Animal Welfare optimistically stated, "I truly believe this year will be the final year of whaling in Iceland."
Interesting Fact: Whales and Climate Change
In a twist to the tale, Kristján Loftsson suggested that hunting whales could aid Iceland in meeting its climate goals. He argued that whales exhale significant amounts of carbon dioxide, and their waste promotes algae growth in Icelandic waters. However, experts like Clare Perry from the Environmental Investigation Agency have debunked this claim, emphasizing the vital role whales play in capturing carbon from the atmosphere.

Have you heard of this Icelandic tradition? Throwing baby puffins off cliffs.
Final Thoughts
Iceland's decision to resume whaling is a complex issue, intertwining tradition, economics, animal rights, and global politics. As the world watches, it remains to be seen how Iceland navigates these turbulent waters in the coming years.
What do you think about the whale hunting ban lifted in Iceland? Comment below.
You may also like:
Trending Animal News of The Week: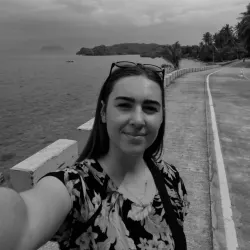 Latest posts by Tara Panton, B.Sc. (Hons) Marine Biology
(see all)