Welcome to a curated journey through the world's top 10 Luxury Travel Destinations.
In this article, we unveil destinations that redefine the meaning of luxury and offer travelers an unforgettable taste of extravagance. Join us on a virtual tour of these exclusive locations, each offering a unique blend of history, culture, natural beauty, and modernity. Whether you're seeking a romantic getaway, a family retreat, or a solo adventure, these destinations promise to fulfill your every desire for luxury and leisure.
If you want to check amazing travel locations, also check travelbucketlist for amazing ideas.
Key points
| Destination | Highlights |
| --- | --- |
| 1. New Orleans, Louisiana, US | – Historical venues, statues, and buildings – 17th-century French architecture – Live jazz, Gin Fizz, seafood, absinthe, and whiskey experiences |
| 2. Dijon, France | – Unique cultural and architectural heritage – Haute cuisine and vineyards – International and Gastronomic Fair in the fall |
| 3. Dubai, UAE | – Historic sites and contemporary architecture – Vibrant nightlife – Sparkling skyscrapers, beaches, fine cuisine, and shopping |
| 4. Napa Valley, CA, US | – World-renowned wine country – Volcanic soils for unique wine flavors – Sunny year-round weather – Michelin-star restaurants and high-end accommodations |
| 5. Pink Granite Coast, France | – Stunning pink rocks and coastlines – Nature walks, heritage, and coastal beauty – Unique tidal experiences between rose granite rocks |
| 6. Bali, Indonesia | – Breathtaking beaches, temples, and natural beauty – Hilly areas, lakes, waterfalls, rice fields, and sacred rivers – Ideal for solo, family, or romantic getaways |
| 7. Cape Town, South Africa | – Blend of nature and city attractions – Atlantic Ocean and Table Mountain – Suitable for various budgets – Gourmet food, luxury wine, hotels, and spas |
| 8. London, England | – Rich history, museums, architecture, and culinary scene – Over 2,000 years of history – Theaters, fashion, museums, and historic landmarks |
| 9. Singapore | – Cultural diversity, languages, religions, and cuisine – Cleanliness and modernity – Marina Bay Sands hotel and stunning skyline views – Top 50 Bars worldwide |
| 10. Maldives | – Crystalline waters and pristine beaches – Private bungalows and luxury spa experiences – Ideal for relaxation and diving in coral reefs |
#1 New Orleans, Louisiana, US
Live in the states but looking for a trip that feels like Europe? Head to New Orleans, LA to get a taste of another world. New Orleans is packed with historical venues, statues, and buildings that will transport you to another time with all the luxury of modern day.
From the French Quarter to the Garden District you can see "17th-century French architecture and European-style square".
You can also enjoy live jazz, the famous Gin Fizz, and plenty of bars and restaurants for seafood, absinthe and whiskey connoisseurs alike (and many are open until 4am!).
#2 Dijon, France
Instead of Paris, you can treat yourself to the "unique cultural and architectural heritage" of the city of Dijon. Dijon is known for its "haute cuisine and lifestyle" that has one of the best vineyards in all of France.
Every year in the northern hemisphere fall, Dijon hosts an International and Gastronomic Fair. The town's historic with many bell towers, heritage, and art museums making it a unique luxury destination for 2023.
#3 Dubai, UAE
Dubai is one of the top luxury travel destinations in the world. Historic sites, contemporary architecture, vibrant nightlife, and out-of-this-world attractions can all be found in Dubai.
Dubai is a terrific tourist destination with its stunning, sparkling skyscrapers, state-of-the-art structures, magnificent beaches, and sand dunes, fine cuisine, fabulous all-inclusive accommodation options, shopping at Dubai Mall, and adrenaline-filled adventures.
#4 Napa Valley, CA, US
If you're looking for something luxurious but a little more laid back, consider visiting world-renowned wine country in Napa Valley, California.
Napa Valley is also distinct because it contains volcanic soils, which impart a flavor to the wines that is unique to this region. Volcanic materials also provide some of the world's most fertile soils.
To make it better, Napa Valley has sunny skies nearly year-round, making it an ideal destination no matter the season. Enjoy a Michelin-star restaurant, high-end hotels, and spas with your stay.
Check out more of California's Wildlife with our dedicated article.
#5 Pink Granite Coast, France
This beautiful city in France is known for its stunning pink rocks and coastlines. The pink granite coast (çote de granit rose) is a must-see when passing through Perros-Guirec. Ploumanac'h is an excellent location for this. Before you go, check the tide schedules to see if you may walk over the bottom of the'sea' between the rose granite rocks at low tide.
This trip is great for a couples getaway and has many luxurious nature walks, a lot of heritage and a beautiful coastal climate. Enjoy a one of a kind stay when you visit the Pink Granite Coast in France and enjoy the luxury of mother nature.
#6 Bali, Indonesia
Bali is an excellent destination for a solo trip, family getaway, or romantic getaway making it an ideal choice for our top 10 ultimate luxury travel destinations 2023.
Bali boasts practically every form of natural beauty, from breathtaking beaches to enchanting temples.
The island's landscape includes beautiful hilly areas with lush foliage, scenic lakes, gorgeous waterfalls, iconic rice fields, flower gardens, gushing sacred rivers, and secret gorges.
Explore the wildlife of Bali with our dedicated article on Wildlife in Indonesia.
#7 Cape Town, South Africa
Cape Town is an incredible place to visit because it has an idyllic blend of both nature and city attractions.
The city is located between the Atlantic Ocean and Table Mountain, which is "one of the world's Seven Wonders of Nature". The city is suitable for a budget while seeing some incredible sights. It's a suitable fit for family holidays and romantic getaways alike. You can enjoy some of the world's most gourmet food, luxury wine, hotels and spas.
#8 London, England
London remains an excellent choice for a luxury travel destination. It boasts some of the best museums in the world, incredible architecture, food, football, Buckingham Palace and so much more. The city has over "2,000 years of history" and some of the top restaurants in the world [8].
If you're looking to see some theater or fashion, there are options there for that as well. Visit museums, old world castles, Shakespeare's hometown and much more with your trip to London and neighboring cities.
Explore more of England's wildlife with our dedicated article!
#9 Singapore
This incredible city in SE Asia is a must for your luxury travel itinerary. It's culturally diverse with different languages, religions, and culinary offerings. There are laws against littering which makes it "one of the cleanest cities in the world" to visit [9].
It's also known for the Marina Bay Sands hotel, which has an infinity pool perched over three towers and some of the most stunning skylines while you drift and relax. In addition to restaurants, Singapore has some of the "Top 50 Bars" in the world [9].
Discover wildlife in Asia with another one of our articles!
#10 Maldives
Our number ten spot goes to our ultimate luxury travel destination…The Maldives. This trip may break the bank, and we think it's entirely worth it.
The Maldives are known for their "crystalline waters" with impeccable clear, azure blue [10]. Relax in a private bungalow, under swaying palm trees, and take in endless skies. Dive in the coral reef, enjoy luxury spa days and pristine beachfront cuisine. There is no paradise quite like the Maldives, and that's why it's our number ten spot for luxury places to travel too.
Summary of Top 10 Luxury Travel Destinations
No matter where you go , We hope this list of the top 10 ultimate luxury travel destinations helped inspire new ideas and insight to the many potential luxury locations the world has to offer.
Happy traveling!
Trending Animal News of The Week: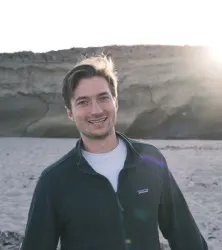 Latest posts by Chris Weber
(see all)