In the vast world of viral videos, a delightful spectacle has emerged that has grabbed the hearts of many. A cheerful group of dogs takes turns going down a twisty outdoor slide, each waiting at the bottom with bated breath for the next furry friend to descend. After each dog has had their turn, their human, Xiaoshuai, joins in the fun, creating a scene of pure joy and camaraderie. Welcome to – Dogs Take Turns Going Down a Twisty Outdoor Slide.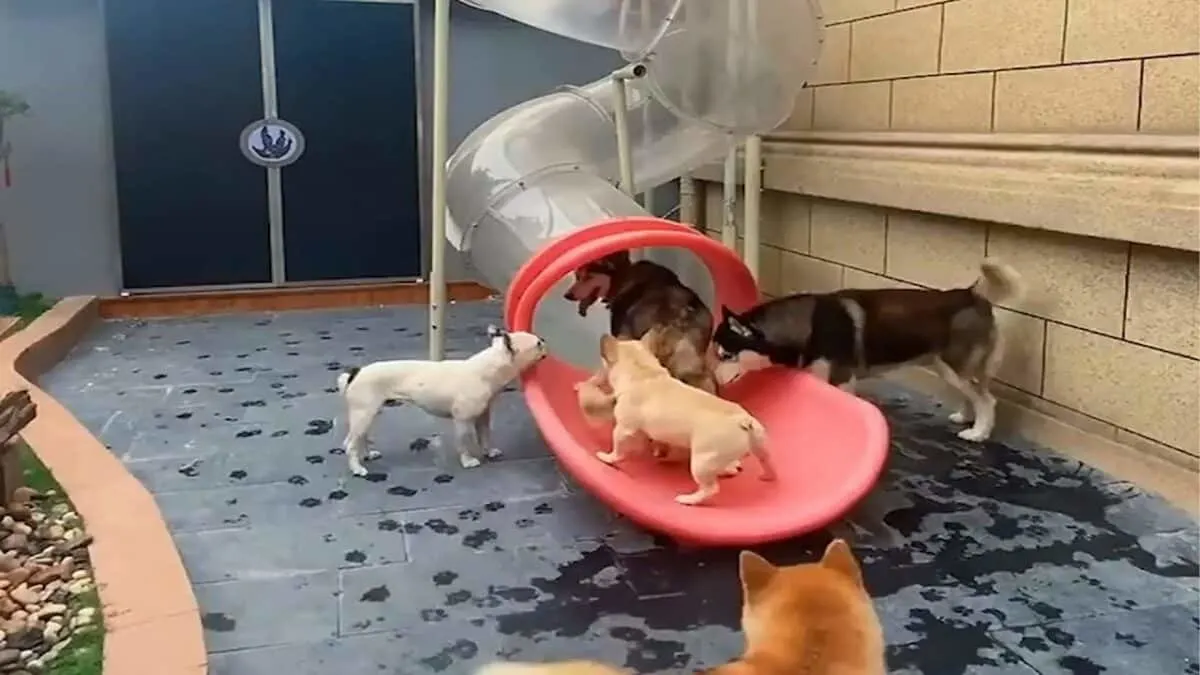 Key Points
The video shows dogs taking turns on a slide, displaying a fascinating mix of canine teamwork and individual personality. Each dog waits patiently for its turn, demonstrating an understanding of group dynamics and adaptation to a human-inspired environment.
The video takes place in an elaborately designed kennel created by Xiaoshuai. Beyond providing shelter, this setting promotes physical exercise and social interaction among the dogs, highlighting the importance of mental and physical stimulation for pet well-being.
The pet house is designed for dogs and includes a special observation area for cats. This thoughtful inclusion recognizes the different social needs of cats and dogs, reflecting the potential for multi-species households to live in harmony.
The Spiraling Spectacle
As the dogs line up for their turn on the slide, viewers are treated to a display of canine teamwork and patience. Each dog's personality shines through in the way they navigate the slide. Some dash down excitedly, while others take a more cautious, measured approach. Yet, they all share one thing in common – the gleeful anticipation of the next turn.
The sight of dogs waiting their turn, almost as if understanding the concept of a queue, is fascinating. It's a testament to their intelligence and social nature. Dogs are pack animals and naturally understand the dynamics of taking turns and working as a team. This playful scenario perfectly exemplifies how these pets have adapted to their human-inspired environment.
Xiaoshuai's Canine Paradise
Xiaoshuai has created a magnificent haven for his animals, complete with a twisty slide. This kennel is more than just a living space; it's a playground that encourages the dogs to be active and social. The presence of the slide not only provides a source of entertainment for the dogs and promotes physical exercise, which is essential for their health and well-being.
Moreover, the design of this kennel shows a deep understanding of the needs of the animals. It is not merely about providing shelter and food. Including elements like the slide indicates the consideration of the animal's mental and physical stimulation, which is crucial for their overall well-being.
Not Just for Dogs
Interestingly, the house also includes a particular observation area for cats. This inclusion showcases Xiaoshuai's consideration for the multi-species composition of his pet family. The observation area allows the cats to watch the dogs' antics from a safe and comfortable distance.
Cats and dogs have different social structures. While dogs are pack animals and enjoy group activities, cats are generally more independent. Having a separate area for cats recognizes their need for personal space, a crucial aspect of cat care. It shows the thoughtfulness that has created a harmonious environment for all pets in the household.
Conclusion
This adorable video of dogs taking turns on a slide is more than a moment of cuteness. It showcases dogs' intelligence and adaptability, the thoughtfulness of their human caregiver, and the potential for multi-species households to live in harmony. As viewers, we get to share in the fun and laughter and gain insights into the world of pets and their interactions with their environment.
Thanks for following this article: Dogs Take Turns Going Down a Twisty Outdoor Slide.
Next up in the animal kingdom:
Trending Animal News of The Week: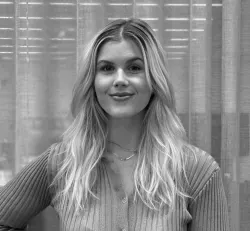 Latest posts by Linnea Hansen
(see all)