A dog stops a fight between a tiger and a lion – as if this unexpected trio of friends wasn't already unique enough.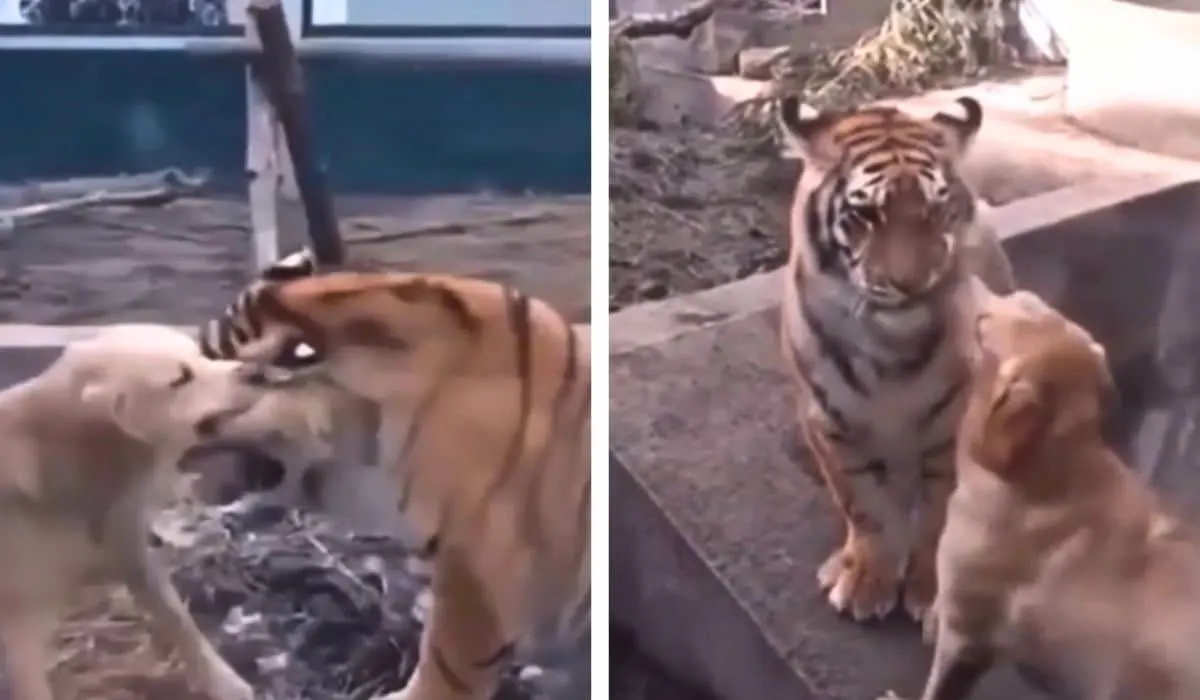 This article unravels the layers of this unique bond, delving deep into the nurturing role dogs play in the upbringing of big cats.
Above all, we can learn many lessons of harmony and unity from this unexpected trio.
The Sanctuary: Setting the Stage
The setting of this event is believed to be an unaccredited sanctuary or a similar establishment. Either way, this place seems to defy the conventional norms of animal habitats seen in accredited zoos.
As seen by the unlikely trio in the video, it fosters an environment where different species can form bonds that are seldom witnessed in the natural world.
Dog Stops Fight Between Tiger and Lion: A Heroic Intervention
In a display of courage and unity, the dog steps in to prevent a clash between the lion and the tiger.
The dog's intervention is not just a display of bravery but also a moment that showcases the deep bonds of friendship that have formed over time.
The dog, in its role as a peacemaker, brings a moment of peace and unity. It proves that friendship knows no boundaries.
The Unlikely Bond: A Backstory of Friendship
It seems the dog shares a deep, nurturing bond with both the lion and the tiger.
Perhaps the dog might have fostered the two when they were just cubs. If so, they share a maternal connection that transcends species boundaries. This nurturing relationship is evident in the dog's protective stance, a beacon of love and care in the wild world.
Dogs Raising Big Cats: A Proven Method
In various zoos globally, a fascinating phenomenon is unfolding. Dogs are playing a pivotal role in the upbringing and nurturing of big cats.
This unconventional pairing is more than just a cute spectacle. It serves a significant purpose in ensuring the well-being of the big cats in captivity.
The dogs become excellent teachers, providing them with essential social cues and playful interactions that they would typically receive from their siblings. This interaction helps in the healthy development of the big cats, allowing them to thrive in the zoo environment.
Dogs are tolerant of the playful antics of their feline friends, which often involve using their teeth and claws, fostering a bond that is both nurturing and affectionate.
Canine Teachers: Lessons Learnt
Socialization Skills: Dogs help big cats develop essential social skills. Through their interactions, big cats learn to communicate and coexist harmoniously with others.
Play and Interaction: Dogs introduce big cats to various forms of play and interaction, which are crucial for their physical and mental development.
Coping Mechanisms: By being a calming presence, dogs teach big cats how to cope with stress and anxiety more effectively. Their composed demeanor helps in channeling the nervous energy of big cats.
Behavioral Cues: Dogs provide big cats with essential behavioral cues that help them adapt to their surroundings. These cues, which include body language and vocalizations, are vital for the big cats to understand and respond to different situations appropriately.
Companionship and Affection: Through their friendship, dogs teach big cats the value of companionship and affection. This bond helps in fostering a nurturing environment where big cats can grow and thrive.
The Larger Picture of the Dog Stopping a Fight Between Tiger and Lion
This remarkable event serves as a lesson in harmony and unity, showcasing the potential for peace and friendship in the most unlikely of places.
It stands as a beacon of hope, a testament to the fact that love and friendship can overcome the fiercest of rivalries, fostering a world where harmony prevails.
Dog Stops Fight Between Tiger and Lion: Conclusion
In conclusion, the video of the dog stopping a fight between a lion and a tiger serves as a beautiful reminder of the extraordinary bonds that can form in the animal kingdom.
It showcases a world where love transcends species boundaries, fostering friendships that defy the norms.
Thank you for reading this article about the dog that stops a fight between a tiger and a lion! Learn some more feline facts with us:
Trending Animal News of The Week:
Latest posts by Josie Messeter
(see all)